Covid-19 one year on: More fallen angels ahead
Just over a year ago, on 11 March 2020, the World Health Organization declared the coronavirus outbreak a global pandemic. In the weeks that followed, public life ground to a halt across many parts of the world as events were cancelled, shops closed, and non-essential travel banned in an attempt to curb the spread of Covid-19.
The pandemic has had a devastating impact on people's lives, businesses and the global economy. We can slowly see a silver lining on the horizon with vaccination programs being rolled out across the globe, but we're not out of the woods yet. And the economic and social repercussions of the virus will likely be felt for years to come.
In 2020, global corporate defaults surged by 91% to a total of 226, according to S&P. This is the highest number since 2009, when 266 companies filed for bankruptcy. The fact that the number of corporate bankruptcies remained below 2009 is likely due to the aggressive intervention by governments and central banks, which bought a record volume of bonds and provided unprecedented fiscal support.
However, as measures to support credit are wound back company insolvencies could rise. Earlier this month, the Bank for International Settlements warned that waves of bankruptcies triggered by the coronavirus pandemic could wipe as much as $1 trillion from the value of global corporate debt markets.
In fact, Scorable's AI-driven credit analysis shows that corporate credit risk remains considerably elevated. A third of the more than 1500 companies we analyze are currently at a high risk of a rating downgrade, with nearly 100 issuers in our universe at risk of becoming fallen angels.
What does this mean for investors? With low yields and high risk are bonds still an effective portfolio diversifier? We believe that the answer is yes. Bonds will continue to play a key role for all those looking for reliable income. It's all about choosing investments wisely though. Careful risk management and portfolio optimization are now more important than ever.
Corporate Issuers: Rating Downgrade Risk*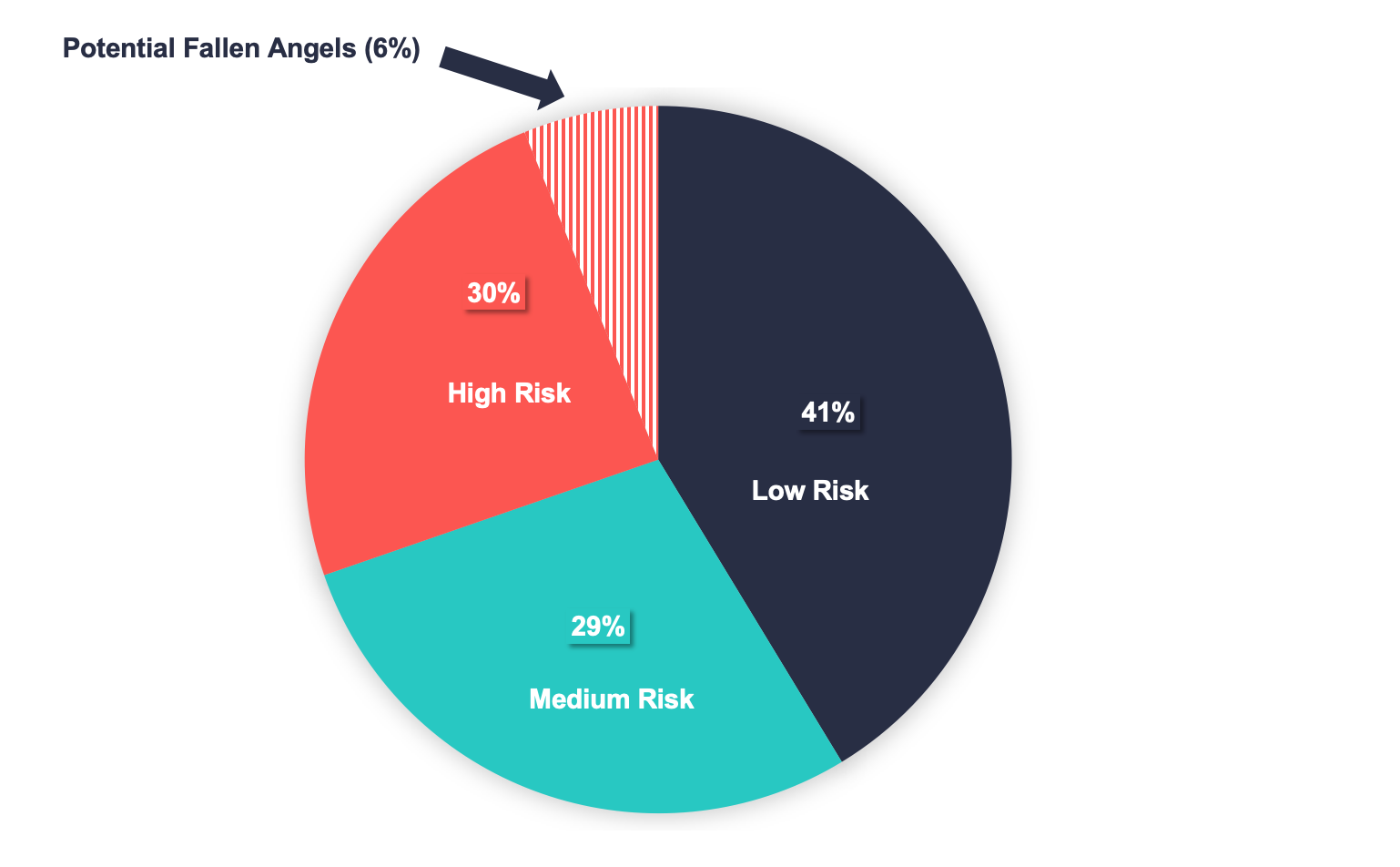 *Scorable credit research predicts rating downgrades for corporate debt issuers within a 12-month timeframe.